Best Mailing Lists and Email Lists from Hippo Direct
Looking for more customers? Hippo Direct can provide you with responsive high-quality, targeted mailing lists and email lists.
As a list broker, we have access to any list that's available for sale. And we work hard to simplify the list ordering process for you, while negotiating the lowest possible price. Plus, the best part for you: it costs you nothing extra to use our list research and recommendation services.
Tell us who you'd like to reach and we'll provide you with counts, pricing and list order instructions.
The descriptions below represent the list categories which have been used most successfully by our clients.
Doctors and Medical Professionals
Education and Nonprofit Professionals
Consumers
Business Executives
Licensed Professionals
STEM Professionals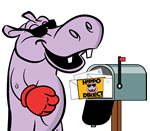 28+ years of helping businesses like yours find new customers.
Let your business RUN WILD