Buy Dentists Mailing Lists and Email Lists from Hippo Direct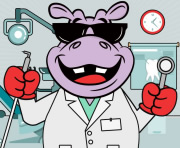 Hippo Direct is your source for the best postal lists and email lists of dentists and dental care professionals. The most popular lists are members of the American Dental Association, and subscribers to the leading magazines for dentists.
You can use these mailing lists to reach all types of dentists: General Practice, Endodontists, Orthodontists, Pedodontists, Periodontists, Prosthodontists, and Oral Surgeons.
Other dental industry lists include: dental students, dental hygienists, dental assistants, dental manufacturers and suppliers, and dental laboratories.
To buy any list of Dentists & Dental Professionals from Hippo Direct — or for current list counts and pricing — contact Mindy Branstetter via email at mindy@hippodirect.com or via phone at 855-447-7653 x704
Best Postal Lists and Email Lists to Reach Dentists & Dental Practices

American Dental Association ADA Dentists     view
Dentists Email List with ADA Demographics for Annual Use     view
Dentists Email List with ADA Demographics for 1x Use     view
ADA Dentists Enhanced with Dental Practice Demographics
American Dental Hygienists Association ADHA
Dentists Email List with Enhanced Demographics     view
Dental Assistants Email List with Enhanced Demographics     view
Dental Hygienists Email List with Enhanced Demographics     view
Canadian Dentists Mailing List
Dental Equipment Manufacturers and Suppliers Email List     view
Dental Hygienists and Dental Assistants     view
Dental Students Email List + Mailing List
Dentists, Dental Assistants, Dental Hygienists at Home Address     view
Dentists in Group Practices     view
Digital Esthetics Magazine
Medical Labs and Dental Labs     view
Sleep Review Magazine Postal and Email     view
28+ years of helping businesses like yours find new customers.
Let your business RUN WILD