Buy Dentists Mailing Lists and Email Lists from Hippo Direct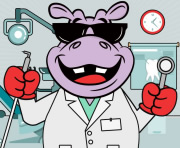 The most effective Dentists mailing lists and email lists are available for purchase from Hippo Direct. You can reach active dentists by Specialty, Age, Practice Ownership, and more. These dentists lists contain members of professional associations such as Academy of General Dentistry (AGD), American Dental Association (ADA), and specialty dental associations; plus subscribers to the leading magazines for dentists.
Lists of all types of Dentists are available: General Practice, Endodontists, Orthodontists, Pediatric Dentists, Periodontists, Prosthodontists, and Oral Surgeons.
Other dental industry lists include: dental students, dental hygienists, dental assistants, and dental laboratories.
All of these postal and email dentists lists are available for one-time use; and some of the lists can also be used an unlimited number of times during one year as part of an annual data license.
To buy any list of Dentists & Dental Professionals from Hippo Direct — or for current list counts and pricing — contact Mindy Branstetter via email at mindy@hippodirect.com or via phone at 855-447-7653 x704
MultiSource Active Dentists Mailing List + Email List     view
American Academy of Implant Dentistry AAID
American Association of Endodontists AAE     view
American College of Oral and Maxillofacial Surgeons ACOMS
American Dental Hygienists Association (ADHA)     view
Canadian Dentists
Dental Hygienists and Dental Assistants Mailing List + Email List    view
Dental Students Mailing List + Email List
Dentists, Dental Assistants, Dental Hygienists at Home Address     view
Dentists in Group Practices Mailing List + Email List   view
Digital Esthetics Magazine
Medical Labs and Dental Labs     view
MJH Life Sciences Dental Masterfile     view
Sleep Review Magazine Mailing List + Email List     view
30+ years of helping businesses like yours find new customers.
How can we help you?