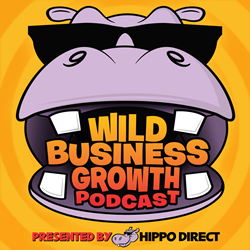 Wild Business Growth Podcast Presented by Hippo Direct
How entrepreneurs and innovators unleash creativity to grow bigger and better businesses. Hear from an exciting new guest every single week who's turning wild ideas into wild growth. Guests include startup founders, product inventors, social media influencers, and much more. Hosted by our digital marketing dude Max Branstetter.
Theme Song: Freestyle Percussion Magik – Jungle Tribe – provided by Jamendo
Listen to each episode on the player below, or click icon to listen on your favorite podcasting platform!
27+ years of helping businesses like yours find new customers.
Let your business RUN WILD