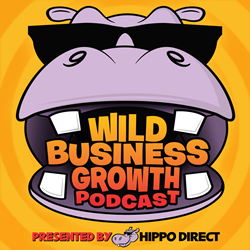 Wild Business Growth Podcast Presented by Hippo Direct
Wild ideas. Wild growth. Every Wednesday morning a new entrepreneur or innovator shares the crazy creative and unusual ways they grew their business, and provides tips for you to do it, too. Hear the woman who became the voice of Siri, the man who's reinventing the sandcastle, how GaryVee's partners are turning the wine world upside down, and more wild stories. Hosted by our digital marketing and dad joke dude Max Branstetter.
Theme Song: Freestyle Percussion Magik – Jungle Tribe – provided by Jamendo
Listen to each episode on the player below, or click icon to listen on your favorite podcasting platform!
27+ years of helping businesses like yours find new customers.
Let your business RUN WILD