Imagine marketing your dental practice so well, you get featured in a #1 New York Times Bestseller. That's exactly what happened with this week's podcast guest, Dr. Chithra Durgam! Episode #13 of the Wild Business Growth podcast has dropped LIKE IT'S HOT and features the World's Coolest Dentist, who grew her practice through social media videos and caught the attention of mega digital entrepreneur Gary Vaynerchuk (aka GaryVee), who included her story in his #1 New York Times Bestseller "Crushing It!" Presented by Hippo Direct. Listen on iTunes, Spotify, Stitcher, and your other favorite audio platforms – subscribe and leave a 5-star review if you enjoyed Dr. Durgam's story!
What is the Wild Business Growth Podcast?
Hear how entrepreneurs & innovators unleash creativity to grow bigger and better businesses. Hear from an exciting new guest every single week who's turning wild ideas into wild growth. Guests include startup founders, product inventors, social media influencers, and much more. Hosted by our digital marketing dude Max Branstetter – that's me!
Episode #13: Dr. Chithra Durgam – World's Coolest Dentist, Featured in GaryVee's "Crushing It!"
Dr. Chithra Durgam, the World's Coolest Dentist, Entrepreneur, Speaker, and Social Media Rockstar joins the show to share how she grew her practice, Aesthetic Dental, through Musical.ly and Instagram and got featured in Gary Vaynerchuk's #1 New York Times Bestseller "Crushing It!" I read the book earlier this year and was blown away by Dr. Durgam's story – she made going to the dentist fun! Fast forward to this month when we connected over Instagram for the podcast, and she was graciously willing to host the interview at her practice in North Bergen, NJ (see pictures down below). Dr. Durgam is a super friendly and inspiring person who knows how to disrupt in today's busy marketing world – and wants to bring everyone along for the journey with her. Huge thanks to the team at Aesthetic Dental for hosting, especially Emily who recorded the whole interview on video! This episode covers everything from how Dr. Durgam partnered with Snoop Dogg as part of her invention, ROAR Mouthguards, to how to find inspiration for social media marketing. Here's a small sample of what you will hear in this episode:
How to take more risks and learn from mistakes
The business and marketing side of managing a dental practice
What Snoop Dogg is like in person
How to find a mentor
Why you should do things that make you happy
The changing demographics of the dental world
How to be smart about direct mail marketing
The most famous people who have stepped foot in Dr. Durgam's office
Connect with Dr. Durgam on Instagram, Musical.ly, and Snapchat at @DrDurgam, Twitter at @Dr_Durgam, and her practice at adentalonline.com.
Enjoy the show and see how many rapper names you can count in the episode! Check out the show notes below for much more detail and pictures. Additionally, head to the bottom for some of my favorite resources for starting a podcast, as I mentioned on Dr. Durgam's Instagram Live video the day the episode came out!
Show Notes
Intro
How to Grow Your Business with Social Media

[5:15] How Dr. Durgam got started with social media
[5:58] GaryVee on

Musical.ly

[6:50] Why Dr. Durgam made that big change with her marketing
[7:13] People's reaction to her videos
[7:19] The only people who liked her videos at the start
[7:55] Moments that teach you what you're made of
[8:20] When she thought about stopping
[8:50] How to take more risks and learn from mistakes
[9:20] When Dr. Durgam noticed her social media videos were picking up
[10:00] Dr. Durgam

Facebook

[10:30] How she got connected with GaryVee and "Crushing It!"
[11:00] Why GaryVee is so successful
[11:40]

The GaryVee Audio Experience

[12:00] How to get closer to someone famous
[12:36] Examples of giving value
[13:10] GaryVee

Twitter

[13:20] GaryVee

K-Swiss

sneakers
[13:48]

Wine Library

[14:20] The mantra Dr. Durgam lives by
[14:25] Her speaking appearances and the impact to her business
[14:45] When she started speaking
[15:30] Why she wants to bring everyone along on her journey

How to Market Your Dental Practice

[16:30] How to manage your time
[17:10] Aesthetic Dental

team

[17:20] Why you should hire people smarter than you
[18:20] The importance of priorities
[19:50] How Dr. Durgam spends her nights
[20:18] Shoutout to

Emily

for documenting the interview on video!
[20:25] How Dr. Durgam started

ROAR Mouthguards

[20:45]

Pimp My Ride

,

Xzibit

[21:05]

Louis Vuitton

[21:33] Why ROAR Mouthguards is an intersection of Dr. Durgam's three passion areas
[22:01] The difference between custom mouthguards and those you buy at a store
[22:15] ROAR Mouthguards can withstand 100

PSI

of pressure
[23:11] How Dr. Durgam got connected with

Snoop Dogg

 (see pictures below)
[23:30]

Snoop's Special Stars

[23:59] Instagram

DMs

(Direct Messages)
[24:20]

Adidas

[24:40] What Snoop Dogg is like in person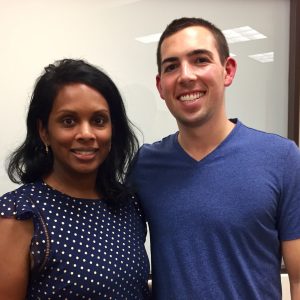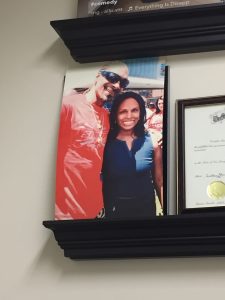 How to Start a Podcast
Dr. Durgam was kind enough to invite me on her Instagram Live the day the episode was released. Here are my favorite resources I mentioned that are the most helpful for starting a podcast:
Alrightyyy then…stay ready for a new super sweet guest coming every single week! Let us know any guests you'd like to see on the show and follow along for all your favorite marketing tips and business tips on Facebook, Twitter, Instagram, LinkedIn, or YouTube. Sign up for the Hippo Digest email newsletter for your weekly recap of creative marketing. Let your business Run Wild…and Bring on the Bongos!!