If people can't remember what you do, they won't do business with you. That means your messaging has to be crystal clear…or you're in big trouble. That's the passion area of this week's podcast guest, Steve Woodruff! Episode #49 of the Wild Business Growth Podcast is HERE and CLEAR and features the King of Clarity himself and author of the Amazon Bestseller Clarity Wins. Listen to the episode on Apple Podcasts / iTunes, Spotify, Overcast, and your other favorite audio platforms – subscribe and leave a 5-star review if Steve blew your mind!
What is the Wild Business Growth Podcast?
Hear how entrepreneurs & innovators unleash creativity to grow bigger and better businesses. Hear from an exciting new guest every single Wednesday morning who's turning wild ideas into wild growth. Guests include startup founders, product inventors, social media influencers, and much more. Hosted by our digital marketing dude Max Branstetter – that's me!
Episode #49: Steve Woodruff – King of Clarity, Author of Clarity Wins
Steve Woodruff, the King of Clarity, joins the show to share how to unlock your company's DNA and produce crystal-clear messaging to generate sales and referrals. Steve and I connected over email after he discovered the podcast through his buddies – and previous guests – Mark Schaefer and Jay Baer. The more I learned about Steve's background and his ideas on clarity and branding, the more I was excited to interview him. Steve is one of the most brilliant, creative, nice, and thoughtful leaders you'll ever hear from. This episode covers everything from the concept behind his new book Clarity Wins to why everybody needs a villain. Here's a small sample of what you will hear in this episode:
How to get remembered when telling people what you do
Why memory darts are better than elevator pitches
Tips from brain science and astronomy
Why the DNA of your company is so important
How to self-publish your book
Marketing lessons from Mark Schaefer and Jay Baer
The creative inspiration that comes from thriller novels
Why UPS is committing the biggest marketing sin in the world
Connect with Steve at ClarityFuel.com, on Facebook at @KingOfClarity, and his book at ClarityWins.org.
Enjoy the show and get crystal clear! Check out the show notes and pictures below for much more detail.
Show Notes
Clarity Wins

[9:29] How Steve decided to focus on clarity
[10:46]

Chris Brogan

,

Clarity tweet

[11:43] What's the main message in Clarity Wins
[12:02]

Reticular Activating System

(RAS)
[14:32] What are the five elements of clarity
[17:20] Which of the elements of clarity is the most important
[19:03] The first moment of truth
[20:33] Elevator Pitches vs. Memory Darts
[22:20] Examples of Memory Darts and Clarity
[23:34] The Blob
[24:15] Why everybody needs a villain
[25:13] Where Steve got the idea for the villain
[26:48] Something about Steve's book most people would be surprised by
[27:56]

Josh Bernoff

[28:00]

Tesla

of Business Book Editors
[28:35] How to self-publish and lessons from self-publishing
[29:56] The New York Times 

Bestseller list

[30:15]

Amazon

[30:43] How to promote your book
[31:50] Steve on the

Brainfluence

 Podcast
[32:43] Struggling with your podcast? Email me at

max@hippodirect.com

for help starting and building your own podcast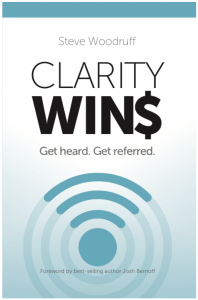 Inspiration & Creativity: People, Hobbies, and Resources
Wild Business Shoutout of the Week
Rapid-Fire Q&A

[47:26] Animal House
[47:33] How to parent five kids
[49:48]

Andromeda

[49:56]

Whirlpool Galaxy

,

Messier 3

(M3)
[50:06]

Starship Enterprise

[50:36] Wild Business Growth Podcast

Episode #18: Greg Branstetter

– President and Founder of Hippo Direct, Our Family Business
[50:50] Steve's biggest pet peeve
[50:58]

UPS

[52:50]

My tweet

about the top of UPS trucks not being painted brown
[54:14] What food Steve could eat over and over
[54:57]

Klingon

[55:16] Connect with Steve at

ClarityFuel.com

, on

Facebook

at @KingOfClarity, and his book at

ClarityWins.org

[55:51] Steve's final thoughts
[55:55]

George Bernard Shaw

[57:04] Subscribe to the Wild Business Growth Podcast and leave a 5-star review on

Apple Podcasts

/ iTunes and

more

!
[57:16] Check out the Hippo Direct Blog at

HippoDirect.com/Blog

for show notes,

Favorite Books

, and the Hippo Digest
[57:19] Get your creative juices flowing with the

Hippo Digest

– your Weekly Recap of Creative Marketing
[57:31] Connect with Hippo Direct on

Facebook

,

Twitter

,

Instagram

, 

LinkedIn

, or

YouTube

 including #HippoTips
Theme music: Freestyle Percussion Magik – Jungle Tribe – provided by Jamendo
How do I start a podcast?
How'd you like a podcast of your own? Email me at max@hippodirect.com with questions on any part of the podcasting process:
Podcast Planning
Podcast Production
Podcast Promotion
More!
If you're interested, we'll connect for a free 30-minute consultation and provide some helpful resources that have been instrumental in getting the Wild Business Growth Podcast up and rolling and connecting with high-quality guests. We love making your podcast the best it can be. Let your podcast Run Wild!
That's all for this episode, clear as day! Who's rocking the mic next? Get prettayyyy prettayy pumped for a new positively productive guest every single Wednesday morning! Let us know any guests you'd like to see on the show and follow along for your favorite marketing tips, business tips, and podcasts on Facebook, Twitter, Instagram, LinkedIn, or YouTube. You'll especially enjoy this list of the favorite books of Wild Business Growth Podcast guests. Sign up for the Hippo Digest email newsletter for your Weekly Recap of Creative Marketing. Let your business Run Wild…and Bring on the Bongos!!