No matter what you do with your professional career, there's one thing that truly makes a difference: courage. It takes courage to face your fears, no matter how big or how small. There's one man who values courage so much, he spent 3 years shadowing the most courageous people on Earth to learn how they became who they are – it's the latest podcast guest, Ryan Berman! Episode #53 of the Wild Business Growth Podcast is HEEEEERE and features the founder of Courageous and bestselling author of Return on Courage. Listen to the episode on Apple Podcasts, Spotify, Google Podcasts, and your other favorite audio platforms – subscribe and leave a 5-star review if you're feeling courageous enough!
What is the Wild Business Growth Podcast?
Hear how entrepreneurs & innovators unleash creativity to grow bigger and better businesses. Hear from an exciting new guest every single Wednesday morning who's turning wild ideas into wild growth. Guests include startup founders, product inventors, social media influencers, and much more. Hosted by our digital marketing dude Max Branstetter – that's me!
Episode #53: Ryan Berman – Courage, Creativity, i.d.e.a.s, and Sock Problems
Ryan Berman, the Founder of Courageous, Sock Problems, i.d.e.a., and Fishtank joins the show to share his journey from Chief Creative Officer to Bestselling Author of Return on Courage. Ryan first heard of the Wild Business Growth Podcast after his friend and former colleague Stephanie Liu appeared on our show. She posted my Instagram Stories promo video for the episode on LinkedIn and tagged Ryan, challenging him to break her records for alliteration, tongue noises (yep!), and more. He mayyy not have broken those records, but he still completely blew me away. Ryan is one of the most creative, ambitious, caring, and yes – courageous – leaders you'll ever hear from. This episode covers everything from why courage is so important for business to lessons from the 3 years he spent shadowing astronauts, Navy SEALs, business executives, and more. Here's a small sample of what you will hear in this episode:
Ryan's interest in TV and advertising from an early age
His campaigns for the MLB and U.S. Ski and Snowboard
How to be more courageous
His favorite interview from Return on Courage
Why you should google "viral"
The soap with a shark fin on it
How to become fluent in metaphor
What Ryan would name his cruise ship if he had one
Connect with Ryan at RyanBerman.com, CourageBrands.com, and his book on Amazon and Audible.
Enjoy the show and sock those problems! Check out the show notes and pictures below for much more detail.
Show Notes
Intro, Fishtank, i.d.e.a., and Sock Problems

[0:31] Email me at

max@hippodirect.com

for help starting and building your own podcast
[0:42] Connect with Ryan at

RyanBerman.com

,

CourageBrands.com

, and his book on

Amazon

and

Audible

[0:46] Fishtank,

i.d.e.a.

[0:51]

Sock Problems

[0:54]

Courageous

[0:56] Return on Courage: A Business Playbook for Courageous Change by Ryan Berman (see below)
[1:01]

Navy SEALs

[1:37]

Cowardly Lion

from The Wizard of Oz
[1:54] Wild Business Growth Podcast

Episode #42: Stephanie Liu

– Live Video Expert, Creator of Lights, Camera, Live
[2:12] Stephanie's LinkedIn post
[2:58] Ryan's background (see below)
[5:09]

Ithaca College

[5:30] Television Radio School
[5:49] Mad Men
[6:17] Ryan's interest in TV and storytelling
[7:18] How did Ryan start Fishtank and i.d.e.a. agency
[9:11]

U.S. Ski & Snowboard

,

Eddie Bauer

,

Qualcomm

[10:20] Ryan's favorite client projects
[11:18]

Baltimore Orioles

,

San Diego Padres

[11:44] Hall of Fan (

Enshrine Mine

)
[13:06]

Rocky Mountains

[13:22]

Center of Excellence

,

Steven Nyman

[14:17]

Manny Machado

[14:40] How did Ryan start Sock Problems
[19:13]

The Trevor Project

[19:20]

Make Our Schools Safe

,

Lori Alhadeff

[20:40] Struggling with your podcast? Email me at

max@hippodirect.com

for help starting and saving time with your podcast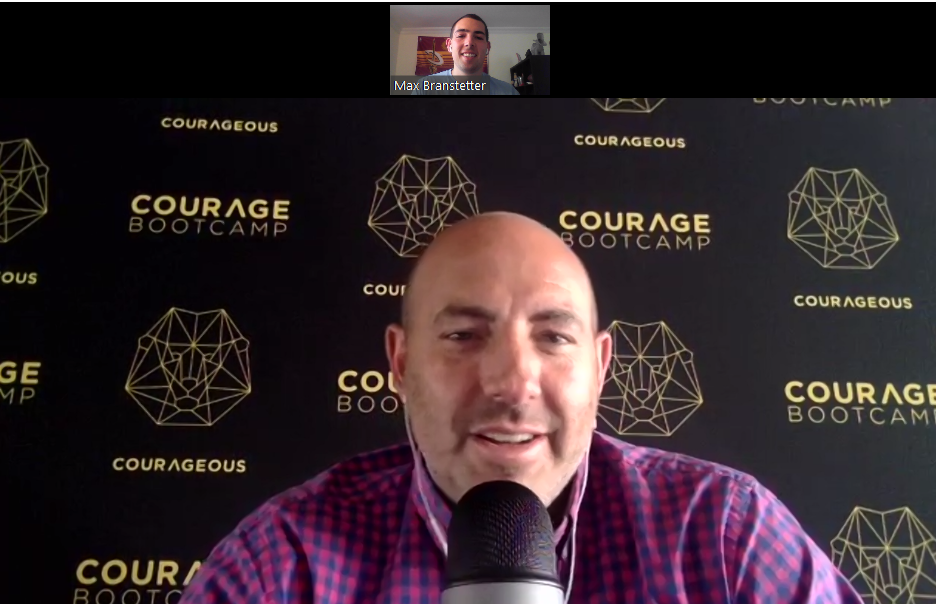 Courageous & Return on Courage
Inspiration & Creativity: People, Hobbies, and Resources

[37:47] What can you do to stay creative
[38:47] Fluent in metaphor and puns
[39:25] Ozark, Stranger Things 3
[39:50] Ryan's favorite books and podcasts to listen to
[40:25] Google "

viral

"

Wild Business Shoutout of the Week
Rapid-Fire Q&A
How do I start a podcast?
How'd you like a podcast of your own? Email me at max@hippodirect.com with questions on any part of the podcasting process:
Podcast Planning
Podcast Production
Podcast Promotion
More!
I'll provide some helpful resources that have been instrumental in getting the Wild Business Growth Podcast up and rolling and connecting with high-quality guests. Let's get Wild!
That's all, courageous folks! Who's stepping up to the plate next? Get warmed up for a new all-star guest every single Wednesday morning. Let us know any guests you'd like to see on the show and follow along for your favorite marketing tips, business tips, and podcasts on Facebook, Twitter, Instagram, LinkedIn, or YouTube. You'll especially enjoy this list of the favorite books of Wild Business Growth Podcast guests. Sign up for the Hippo Digest email newsletter to receive wild marketing ideas every single week. Let your business Run Wild…and Bring on the Bongos!!