Shark Tank has given entrepreneurs the ability to pitch their products and services on national TV in front of millions of viewers. Some walk away with massive deals from the high-profile Sharks….others go home with nothing. But what's it really like being on Shark Tank? Find out from this week's podcast guest, Kim Kaupe! Episode #44 of the Wild Business Growth Podcast has SPLASHED and features the Co-Founder of The Superfan Company, who secured offers from 4 of 5 Sharks while on Shark Tank and now helps out A-list clients like Paul McCartney, Katy Perry, Justin Bieber, Dolly Parton, and Bob Dylan. Listen to the episode on Apple Podcasts / iTunes, Spotify, Overcast, and your other favorite audio platforms – subscribe and leave a 5-star review if you're ready to make an offer yourself!
What is the Wild Business Growth Podcast?
Hear how entrepreneurs & innovators unleash creativity to grow bigger and better businesses. Hear from an exciting new guest every single Wednesday morning who's turning wild ideas into wild growth. Guests include startup founders, product inventors, social media influencers, and much more. Hosted by our digital marketing dude Max Branstetter – that's me!
Episode #44: Kim Kaupe – Shark Tank Success, Co-Founder of The Superfan Company
Kim Kaupe, the Co-Founder of The Superfan Company, joins the show to share her journey starting her business and getting on the hit TV show, Shark Tank. Kim and I connected over social media and I was blown away by the stories from work she shared on Instagram. She was happy to host the interview at her amazing WeWork space in NYC (see picture below), even after I accidentally spilled water all over the table as soon as we sat down (WHOOPS!). Kim is one of the most thoughtful, creative, and fun leaders you'll ever meet and has built up the most impressive client list you'll ever see – I'm not kidding. This episode covers everything from behind-the-scenes of Shark Tank to why creativity comes outside of work. Here's a small sample of what you will hear in this episode:
How Kim got on Shark Tank
The business impact after being featured on Shark Tank
Who was the most intimidating Shark
How she started The Superfan Company (originally known as ZinePak)
Why entrepreneurship is like puberty
How The Superfan Company works with A-list clients including Paul McCartney, Katy Perry, Justin Bieber, Dolly Parton, and Bob Dylan
The best time to start a business
Why there's no such thing as too many analogies
Connect with Kim on Instagram at @KimKaupe, at KimKaupe.com, and TheSuperfanCompany.com.
Enjoy the show and don't spill your water! Check out the show notes and picture below for much more detail.
Show Notes
Intro

[0:31] Email me at

max@hippodirect.com

for help starting and building your own podcast or with digital marketing
[0:42] My middle name is Aaron….named after

Hank Aaron

(who wore #44)
[0:46] Connect with Kim on

Instagram

at @KimKaupe, at

KimKaupe.com

, and

TheSuperfanCompany.com

[0:51]

Shark Tank

[0:52] Kim in the Forbes

30 Under 30

, Inc.

35 Under 35

, Ad Age 40 Under 40
[0:57]

Paul McCartney

,

Katy Perry

,

Justin Bieber

,

Dolly Parton

,

Bob Dylan

[1:31]

WeWork

in NYC (see picture below)
[1:53] Kim's background
[2:09]

80/20 Rule

,

New York Mets

[2:27]

Comic Con

[2:50] The thin line between superfans and "crazies"
[4:00]

Snapchat

[4:14]

Kylie Jenner

[4:27]

Celine Dion

[5:16]

University of Florida

[6:27]

Scantron

[6:37] Kim's work experience prior to The Superfan Company
[8:49] What she liked about the magazine and publishing industry
[9:20]

People

, Teen People,

Brides

,

Condé Nast

[9:34] What made Kim get out of her magazine role
[10:30] Why she left the agency after 90 days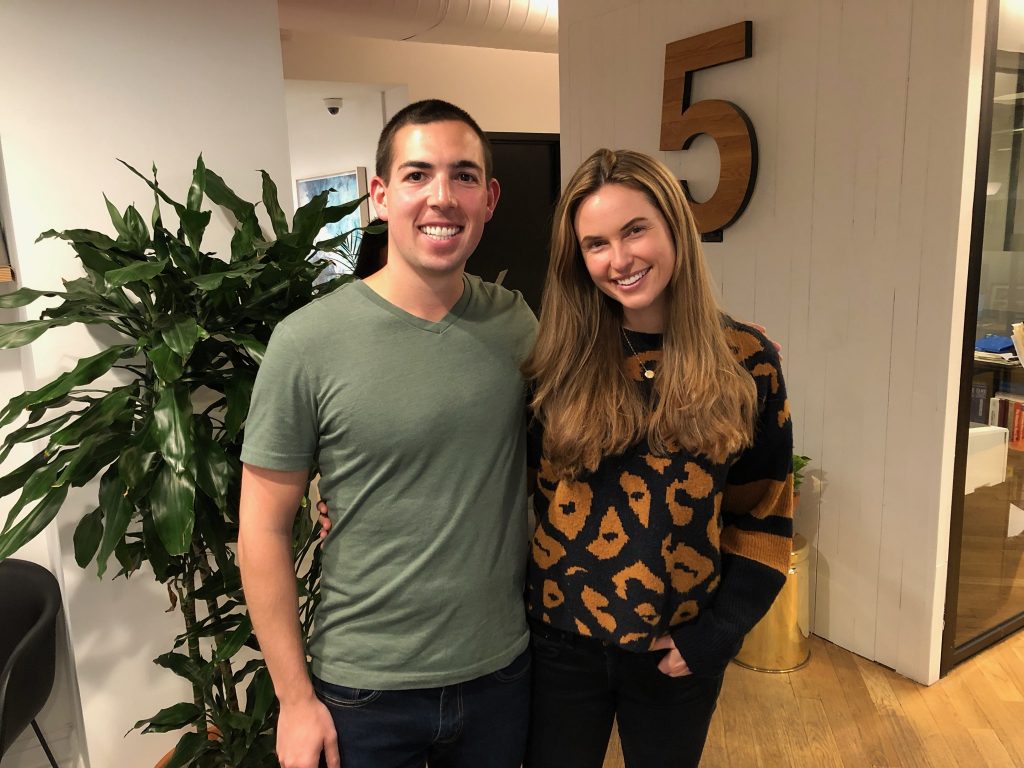 How do I start a podcast?
How'd you like a podcast of your own? Email me at max@hippodirect.com with questions on any part of the podcasting process:
Podcast Planning
Podcast Production
Podcast Promotion
More!
If you're interested, we'll connect for a free 30-minute consultation and provide some helpful resources that have been instrumental in getting the Wild Business Growth Podcast up and rolling and connecting with high-quality guests. We love making your podcast the best it can be. Let your podcast Run Wild!
That's a wrap!! Who's making their pitch next? Get your shark teeth out and get hungry for a new superstar guest every single Wednesday morning! Let us know any guests you'd like to see on the show and follow along for your favorite marketing tips, business tips, and podcasts on Facebook, Twitter, Instagram, LinkedIn, or YouTube. You'll especially enjoy this list of the favorite books of Wild Business Growth Podcast guests. Sign up for the Hippo Digest email newsletter for your Weekly Recap of Creative Marketing. Let your business Run Wild…and Bring on the Bongos!!