Did you enjoy making sandcastles as a kid? I bet you have some fond memories…and some not so fond. Let's face it – sandcastles are way more of a pain than they should be. If only there was a way to make sandcastles bigger and better than ever while eliminating the hassle. Enter this week's podcast guest, Kevin Lane! Episode #45 of the Wild Business Growth Podcast is HERE and features the inventor of Create A Castle – the product that's revolutionizing the way families build sandcastles. Listen to the episode on Apple Podcasts / iTunes, Spotify, Overcast, and your other favorite audio platforms – subscribe and leave a 5-star review if you want to Create A Castle of your own!
What is the Wild Business Growth Podcast?
Hear how entrepreneurs & innovators unleash creativity to grow bigger and better businesses. Hear from an exciting new guest every single Wednesday morning who's turning wild ideas into wild growth. Guests include startup founders, product inventors, social media influencers, and much more. Hosted by our digital marketing dude Max Branstetter – that's me!
Episode #45: Kevin Lane – Inventor of Create A Castle, Sandcastle Genius
Kevin Lane, the Sandcastle Genius, Web Developer, and Founder of Create A Castle joins the show to share his journey revolutionizing the way families build sandcastles and snowcastles. Kevin was introduced to me by my buddy Brendan O'Marra, who appeared on Episode 2 of the podcast and was friends with Kevin in high school. As soon as I checked out the Create A Castle website, I was intrigued. I had never seen a product like this before, and was blown away that Kevin thought of the idea on a beach and has totally changed his life to bring it to fruition. Kevin is one of the most creative, kind, imaginative, and hard-working leaders you'll ever hear from (see picture below). This episode covers everything from how he came up with the idea for Create A Castle to the role 3D printing played in the invention. Here's a small sample of what you will hear in this episode:
How Kevin first became an entrepreneur with his web design business, Code Hounds
What it's like doing market research at the beach
How Kevin splits his time between Code Hounds and Create A Castle
The creative inspiration that comes from sand sculptors
How Create A Castle differs from traditional sandcastle molds
Why listening to new music leads to new ideas
How Create A Castle got featured on LIVE with Kelly and Ryan and has QVC up next
The top GEICO commercials of all time
Connect with Kevin at CreateACastle.com, KLane@CreateACastle.com, and on social media.
Enjoy the show and create some castles! Check out the show notes and picture below for much more detail.
Show Notes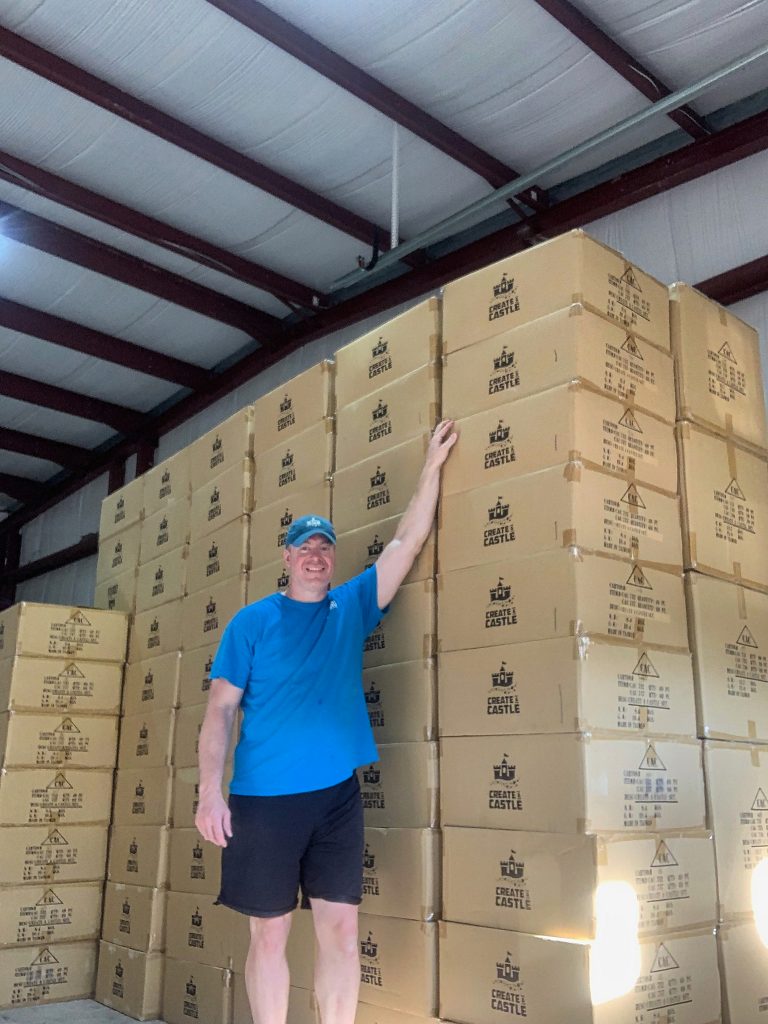 How do I start a podcast?
How'd you like a podcast of your own? Email me at max@hippodirect.com with questions on any part of the podcasting process:
Podcast Planning
Podcast Production
Podcast Promotion
More!
If you're interested, we'll connect for a free 30-minute consultation and provide some helpful resources that have been instrumental in getting the Wild Business Growth Podcast up and rolling and connecting with high-quality guests. We love making your podcast the best it can be. Let your podcast Run Wild!
That's all for the No-Hassle Castle!! Who's building what next? Get pumped for a new rockstar guest every single Wednesday morning! Let us know any guests you'd like to see on the show and follow along for your favorite marketing tips, business tips, and podcasts on Facebook, Twitter, Instagram, LinkedIn, or YouTube. You'll especially enjoy this list of the favorite books of Wild Business Growth Podcast guests. Sign up for the Hippo Digest email newsletter for your Weekly Recap of Creative Marketing. Let your business Run Wild…and Bring on the Bongos!!