The social media world can be pretty scary. Not as scary as the billboard that just went up outside my apartment (see picture at the bottom of this post), but pretty scary nonetheless. That's why we're launching this fright-free edition of Digital Marketing Tips – just in time for Halloween! You can expect fresh social media growth inspiration every single month from our own social media marketing experiences. We share these to make social media less scary for you, whether it's October or any other month. Here are the Digital Marketing Tips from September 2018:
Facebook
Twitter
Instagram
All of the Above
About that billboard I mentioned…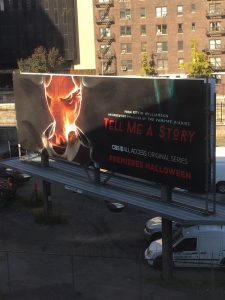 Ahhhhh!! Could you imagine living next to that?! Well, anyway, if you enjoyed the social media ghost-busting ability of these Digital Marketing Tips, you'll love our Wild Business Growth Podcast where I interview a new entrepreneur or creative innovator every week! It's available on every audio platform and frequently includes discussion of the latest brand new social media marketing trends and campaigns. You'll also love the Hippo Digest – it's your Weekly Recap of Creative Marketing, straight to your inbox! Connect with us socially on Facebook, Twitter, Instagram, LinkedIn, and YouTube. Have a Happy Halloween! Check back next month for the latest and greatest batch of Digital Marketing Tips!