Buy PPP Loan Recipients Lists from Hippo Direct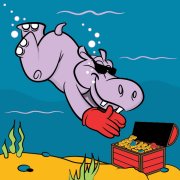 Mailing lists of PPP loan recipients are the perfect way to identify those companies in your target industries that have the best chance of succeeding in the post-COVID world.
The Paycheck Protection Program (PPP) is a loan designed to enable small businesses to keep their workers on the payroll. More than 500 billion dollars have been provided as PPP loans to US businesses. Revised guidelines from the SBA allow for up to 40% of this PPP loan money to be used for non-payroll expenses. Which means that there's a lot of new money available for marketing by those companies who want to grow their business.
One of the easiest ways for you to connect with these companies is to send a traditional mailing introducing your products and services. Whether it's a letter and brochure combo, or a postcard, you can use the mailing lists described below to reach a large pool of companies with marketing money to spend.
To buy any list of PPP Loan Recipients from Hippo Direct — or for current list counts and pricing — contact Andy Mills via email at andrewm@hippodirect.com or via phone at 855-447-7653 x701
Best Postal Lists and Email Lists to Reach PPP Loan Recipients
3 decades of helping businesses like yours find new customers.
How can we help you?